Knitting teaches more than a just a skill or pastime.
Scoff... if that weren't enough!
But, if it isn't for you...
here are just some of the things that knitting teaches a child...
- Math. Math! It teaches basic and complicated math. (Patterning, counting, skip counting, multiplication, division, subtraction, adding, and probably things I don't know about ... :-)
- How to read and understand a pattern/instructions and to use reasoning and visualization skills to make the finished product.
- Fine and gross motor skills. The mobility and dexterity required for knitting helps improve brain function according to one study.
- Problem solving skills... All the knitters say "Amen!"
- Studies on knitting have concluded that it helps children to learn to read better because it requires a left to right and/or circular process.
- The history of knitting and textiles is a whole unit of study one could explore.
- Helps children to maintain focus and attentiveness. It is also calming and repetitive.
- Helps improve a child's personal image and attitude toward achieving a new skill.
- Children can learn about the different materials and how they originate: wool, cotton, acrylic, bamboo, silk, fleece, etc...
- It is a purposeful and tactile way to improve all of the above skills and abilities!!! That in itself is priceless!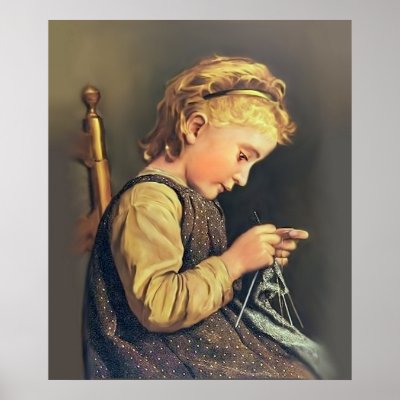 Further Proof...
Ambleside: Hand Crafts
Hand Work in Waldorf Educations: Benefits of Knitting
The "More" Child
Parenting Passageway
: Knitting in your 1st Grade Class